Ian Boswell on Becoming a Better Rider While Staying Off the Roads
LONG A FAVORITE OF PRO RIDERS, INDOOR TRAINERS HAVE GOTTEN SMARTER. HERE ARE 5 WAYS ONE CAN ELEVATE YOUR RIDE. BY LAUREN STEELEAug 17, 2020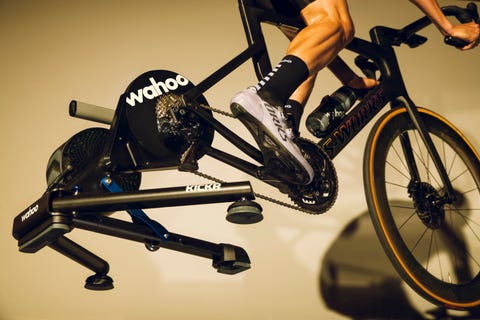 Rafael Astorga
Ian Boswell has packed a lot of experience into his 29 years. A talented multi-sport athlete out of Bend, Oregon, the 29-year-old Boswell compiled an impressive pro resume, including riding a Grand Tour (the Giro d'Italia, Tour de France and Vuelta a España), before a series of concussions led him to leave the roads behind this past January. These days, Boswell's races are on gravel—and no longer his full-time source of income. Boswell's new career involves creating a full-time gravel program and hosting Breakfast with Boz, a podcast for Wahoo Fitness, makers of cycling tech including one device Boswell considers a game-changer for riders from the pro tour to every niche of cycling: the indoor smart trainer.
Trainers have evolved immensely over the last 10 to 15 years and today are so highly customizable that riding one feels like the real thing—and delivers major fitness and endurance gains when you do head back to the roads or trails.
Here are 5 ways Boswell says using the trainer to ride off of the roads can make you fitter, faster, and more efficient on them.
Training tailored to you
One of the biggest benefits of the smart trainer is it allows riders—and their coaches—to control every element of the ride, ensuring that workouts are completed as specified. Boswell's coach sends him a workout file, and the trainer executes the ride, shifting gears and changing resistance according to the rider's desired effort.
That personalization and push makes indoor training incredibly productive. Boswell describes it as, in a sense, forcing you to just do the workout. The more you do so, the more data you get about your fitness and ability, which you can then learn from and build on, thus further tailoring your training specifically to you. And onward the cycle repeats.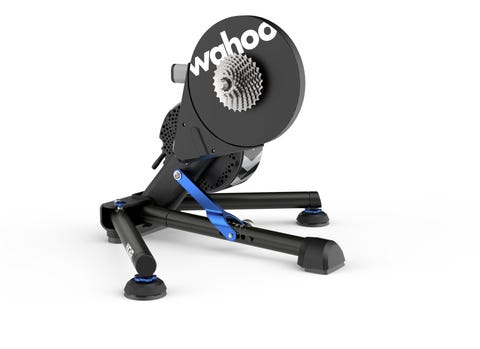 KICKR Smart TrainerR24999.00SHOP NOW
The feel of the road with none of the nonsense
One of the benefits of riding indoors on a trainer is the freedom to be purely focused on effort and the workout at hand—no stoplights, no traffic, no flat tires. No outside interference.
"[The trainer] is so controlled," Boswell explains. "The last thing you want to encounter in the middle of a five-minute, full gas effort is an intersection stop. You can just work out uninterrupted by any sort of real-world distractions or influences."
Boswell's suped-up Wahoo setup is a true 360-degree real-ride simulator. He's got the KICKR, the CLIMB grade simulator, and HEADWIND fan, which does seem more appealing than dodging motorists at four-way stops and roundabouts. But even with just the KICKR, your indoor ride feels even more like the real thing, thanks to its new AXIS feet.
Boswell explains that the KICKR AXIS feet create five degrees of side-to-side mobility, which gives the same sensations and muscle stimulus as riding open roads or trails.
Big climbs and max effort workouts accessible any time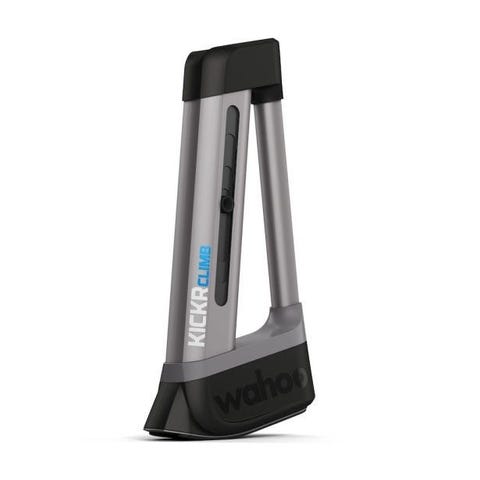 KICKR CLIMB Indoor Grade SimulatorR12999.00SHOP NOW
Pairing the KICKR Smart Trainer with the KICKR CLIMB (which replaces your front wheel), lets you raise and lower your bike to match ascents of up to 20 per cent and descents of -10 per cent. But even without the CLIMB, the KICKR can still automatically adjust resistance to simulate climbs up to a 20% incline. So you can take on any personal Everest challenge any time, no travel required.
That's great for high-end athletes like Boswell, but also for anyone who doesn't have 30 hours a week to dedicate to riding. Most of Boswell's indoor workouts tend to be shorter in duration (60 to 90 minutes) and more efficient.
A ride that might take two hours of total effort outdoors (from getting dressed and prepping the bike to returning home and cleaning it) can be completed in half that on the trainer—with no dead time. Finding the perfect road and conditions are no longer viable excuses.
Guesswork, gone
Older trainers forced you to guess about your power based on the gears on your bike and the resistance on the tire. But a direct drive trainer like the KICKR connects directly to your wheel gear and delivers pinpoint via the power meter, which constantly records and calibrates your speed, distance, power, torque, and cadence without connecting any extra sensors. According to Boswell, that makes the trainer indispensable for workouts—not just those five-minute, VO2 max-effort intervals, but the recovery intervals in between.
"Outside, by the time I get to the bottom of one interval, it's already time to start the next. But the trainer automatically drops you into your recovery zone; you continue to pedal and get those adaptations of proper recovery without any guessing or interruptions."
In fact, Boswell believes many coaches would actually prefer to have their riders do all their focused, high-intensity workouts exclusively indoors, just for that control and accuracy.This content is imported from Instagram. You may be able to find the same content in another format, or you may be able to find more information, at their web site.https://www.instagram.com/p/B_kgaVnpsXe/embed/captioned/?cr=1&v=12&wp=658&rd=https%3A%2F%2Fwww.bicycling.com&rp=%2Ftraining%2Fa33504541%2Fian-boswell-on-becoming-a-better-rider-while-staying-off-the-roads%2F%3Ffbclid%3DIwAR0x1JJta_J17C_xN_mYuZkGV3NGvLuonsUnXK-aUqhbcNOpmefI_rCDWiA#%7B%22ci%22%3A0%2C%22os%22%3A153640.00000000003%2C%22ls%22%3A153622%2C%22le%22%3A153637%7D
Group ride experience with personalized settings
When it comes to trainers, Boswell says riders usually fall into one of two camps, both of which can enjoy the many benefits of indoor training.
The first are folks who ride for fitness and performance. Once their trainer is set up, they can subscribe to an online workout library like Wahoo's The Sufferfest and download a training plan. Riders get a 10-week structured training program for free with a KICKR purchase, too.
"That would give you a really good introduction into what it's like to train, how workouts are made, and how you can create a specific plan to participate in," Boswell says. During the early days of lockdown, daily Sufferfest workouts allowed Boswell to continue his full-time training indoors with the same intensity.
The second group are the social riders. "They need people, they go on group rides, they have friends who ride," Boswell says. Thanks to virtual ride platforms like Zwift, RGT, Bkool, and Rouvy, they can now do so via their smart trainer.
"That whole notion of, 'I don't want to ride inside because I'm alone' is now irrelevant. You can go onto these platforms and ride the same ride with your friends and your community from the comfort and safety of your home," says Boswell.